A new year, and a new version of Medico. We have a lot to share with you, so buckle up!
The new and updated Dental Chart
The biggest new changes in this version is the dental chart. Here are the details:
Teeth Surfaces
Treatments can now be configured to target a set of tooth surfaces instead of the whole tooth. We maintained the same ease of use and great UI/UX you expect from Medico. Simply click to select the treatment surfaces when adding a treatment.
Teeth Top View
To better view the treatment surfaces, now the dental chart include the top view in addition to the front view.
New conditions for teeth
Now you can mark teeth as Fractured or have Caries. Also, did you know you can any conditions dynamically to the conditions?
Permanent and Primary Teeth shapes
Since Medico 1.0 it was possible to change teeth to either primary or permanent. Now this change will be displayed in the chart.
Updated Bridge and Filling paint type
In the chart now bridge has a better paint. Also, filling will be charted as matt so it is easier to be recognised.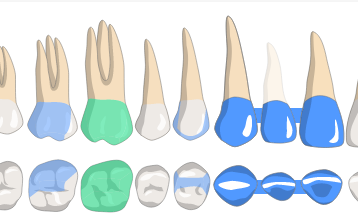 Additional changes
In treatment plan, doctor name is now shown in each treatment.
You can now start treatments directly from the list in the treatments plan without the need to open it first.
When printing bill, doctor name is print in the appointment field.
When printing bill, discounts for treatments is now more clear.
Finally
We hope you are excited to get this features and even more excited for what is coming in 2022. As always, we are happy to get your feedback and feature request. Get in touch.
See you soon.